About Us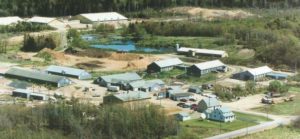 Spec Resources Inc. is located in the Municipality of Clare. Primarily an Acadian region, Clare occupies the western half of Digby County, Nova Scotia. We are located midway between Digby and Yarmouth, and able to cover both of these centres, as well as Digby Neck and the Islands. Spec Resources Inc. was originally known as Spectacle Lake Concrete & Excavation Ltd., but underwent an amalgamation in 2009 with two other related companies to form the new company. Despite the amalgamation, the scope of work did not change and we continue to serve customers in the region the same as we have since the early 1980s.
On May 31, 2016, Quality Concrete Ltd. of Dartmouth purchased our Ready Mix Concrete business. Quality Concrete,has been in business since 1958 & now operates 12 plants in various locations. Quality's Yarmouth branch will manage the plant in Concession.
Other facts about our company:
Spec Resources has 2 gravel screening plants to supply the local market with over 35 types of sand, gravel, topsoil and compost mix.
We specialize in complete excavating and site work, including culverts and installation, driveway and road construction, parking lots, sewer and well construction, excavation for foundation, supply of fill and gravel, compact equipment and final landscaping.
Safety has been a priority for its employees and customers, Spec Resources is certified under the Nova Scotia Construction Safety Association, in good standing with the Nova Scotia Workers Compensation Board. We also have a qualified safety officer on staff.
The company has the resources available to design and select on-site sewer disposal systems.
We can also locate your property and give you, at no charge, a complete quotation on your future project.
Just give us a call or email info@specresources.ca for more details.